UHS Day at the Capitol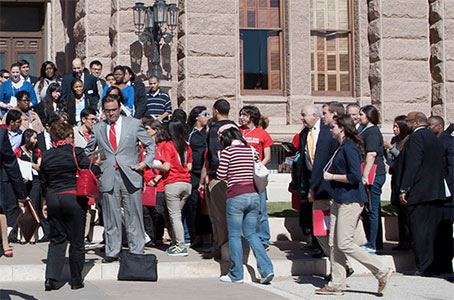 On February 23rd 2015, Cougar Advocates for Texas (CATS) volunteers including alumni, students, and community supporters, together with the other system campuses will meet with legislators and their associates at the state Capitol. This year CATS seeks to maximize funding for the University of Houston System (UHS). The UHS Legislative Agenda includes some of the following items:
Tuition Revenue Bond Projects (TRBs): As enrollment and the number of faculty at our institutions grow, so too does the need for expanded and better infrastructure. Funding capital construction projects through direct appropriation and tuition revenue bonds is vital to address these needs.
Higher Education Fund (HEAF):  The state of Texas and its universities are in a period of tremendous growth, and are therefore in need for expanded facilities, the UH System recommends the Legislature re-authorize the Higher Education Assistance Fund (HEAF) for the next ten years with a 50% increase (from $262.5 million to $393.75 million) – a percentage consistent with increases for the past two 10-year allocation cycles.
Health and Biomedical Sciences Center 2 ($165,000,000): This building will provide state-of-the-art infrastructure to support students, faculty, and research activities in the university's health sciences programs.  The new center will include a primary care clinic, nursing and physical therapy programs, the College of Pharmacy, the Center for Drug Discovery/Research, and the Division of Research. The programming and project design began in May 2014 with an anticipated completion in November 2016.
Show your Cougar pride and become a part of UH System history by advocating some key points that will ultimately advance the UHS and the State of Texas.
We need your support! Don't miss your opportunity to board the Cougar Express for UHS Day in Austin to participate. Seating is limited.
Itinerary
6:30 a.m.  - Registration, Continental Breakfast, and break up into teams to load bus O'Quinn Great Hall at the UH Athletics/Alumni Center
7:30 a.m. - Buses depart for Austin
10:30 a.m. - Arrive at Capitol
10:45 a.m. - First half of legislative office visits
11:45 a.m. - Load buses for Scholtz Garten
Noon  - Lunch (with invited legislators)
1:30 p.m.  - Head Back to Capitol
1:45 p.m.  - Gather on the Southside of the Capitol for group photo
2:15 p.m. - Visit House and Senate Chambers
3:15 p.m. -  Second half of legislative office visits
4:15 p.m. - Board buses on the East side of the Capitol to return to Houston
4:45 p.m. - Buses depart Austin to return to the UH Athletics/Alumni Center
8:00 p.m. - Buses arrive at the UH Athletics/Alumni Center