ITLS 2017 Keynote
---
ITLS 2017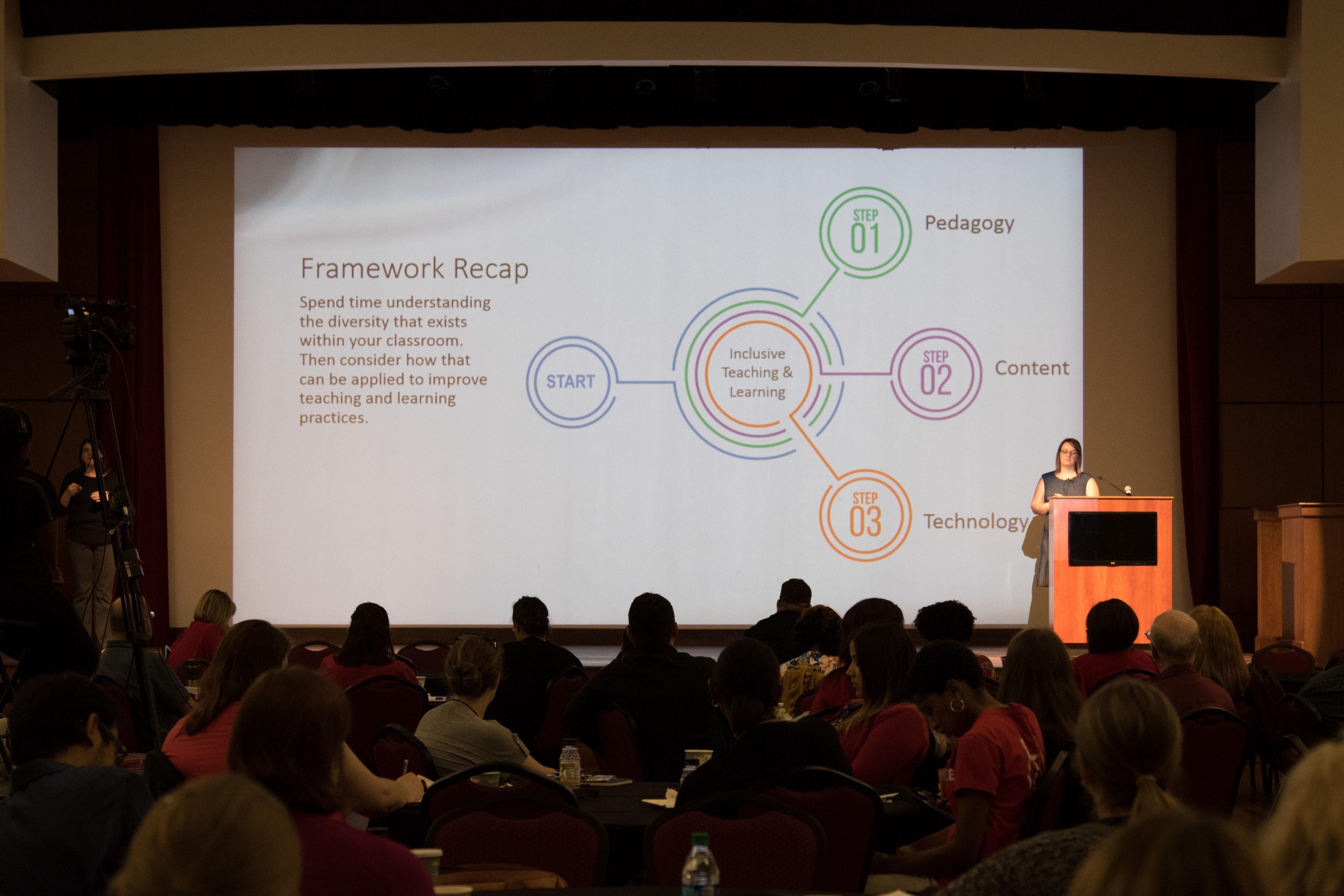 The 2017 Innovative Teaching and Learning Symposium was held on April 21, 2017 at the University of Houston Student Center. Joanna Hunt, accessibility specialist and Senior Product Manager for Accessibility at Amazon Kindle, delivered the Keynote address on "Building Inclusive Learning Experiences". The biggest ITLS to date with over 20 presentations, this year's conference focused on accessibility.
View select presentations
View full schedule
JoAnna Hunt
Accessibility Specialist
JoAnna Hunt is an advocate for people who benefit from inclusive experiences. She loves helping others understand the needs of people with diverse abilities, and inventing ways to improve access for everyone. Her work focuses on customers through empathy, understanding and action. JoAnna has been working in the design, education, and accessibility fields for over 10 years and has created digital teaching and learning experiences, changed policies, implemented inclusive development practices, and influenced culture in large organizations.
In her professional life, she is focused on setting and driving forward a vision around accessibility in the technology space with a goal of providing tools and services that meet the needs of users with all abilities. She routinely works with key stakeholders in both the business and technology spaces to ensure universal access to digital experiences and the prioritization of features that directly benefit people with disabilities.
She is a member of industry accessibility groups working together to share knowledge and best practices and further the mainstreaming of accessible development practices across many industries. Through her work in accessibility and education, and her background in interaction and information design JoAnna has become an influential change maker focused on delivering on the promise technology offers to those with a variety of physical and cognitive abilities.
Building Inclusive Teaching and Learning Experiences
As more and more attention is being placed on meeting the needs of students with diverse abilities, educators are looking more closely at inclusive education goals and how to accomplish them without adding significant additional time and effort to building online and in classroom curriculum. To do this successfully, educators need a solid understanding of the needs of today's diverse learners, the impacts traditional practices have on their ability to succeed, and a plan for moving forward.
In this session JoAnna Hunt will provide an overview of inclusive classrooms, outline the benefits and the challenges faced in implementing them, and provide a practical framework for assessing your pedagogy, your content, and the technology you're using in the classroom to help you easily achieve inclusivity in your online and face to face classrooms.
---
WORKSHOP: Inclusive Content Development
Content accounts for a large percentage of the challenges faced by individual learners with diverse needs. Many of the content authoring practices we are used to are unintentionally excluding some students from being able to consume it and keep up with the rest of the class. With a few small changes to how content is authored and used in the classroom, we can create truly inclusive materials for all learners.
In this session JoAnna Hunt will provide some practical approaches to creating accessible documents, presentations, and videos and provide participants with some hands on guidance to resolve some of the key issues found in content today. Participants are required to bring a laptop computer with access to their digital course materials and at least two personal examples of a document or presentation they would like some assistance making inclusive. The basics of creating captioned, accessible videos will be discussed, but time will likely prevent the ability to make any improvements to existing video content.
---
The Innovative Teaching and Learning Symposium, a joint venture for all four UH System Universities (UH, UH-Downtown, UH-Clear Lake, and UH-Victoria), is designed to bring together individuals interested in the review and evaluation of emerging technologies. We are interested in interactive sessions for workshops, discovery sessions, information sessions, and hands-on demonstrations that engage and inform participants.