About Renu Khator
Chancellor, University of Houston System
President, University of Houston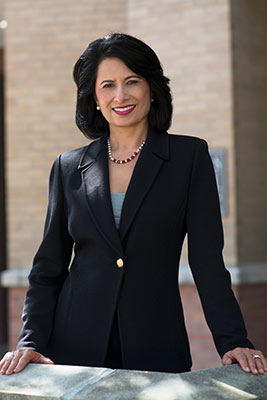 Renu Khator holds the dual titles of chancellor of the University of Houston System and president of the University of Houston. The UH System's first woman Chancellor and the first Indian immigrant to head a comprehensive research university in the United States, she assumed her post in January 2008.
As chancellor of the UH System, Khator oversees a four-university organization that serves nearly 71,000 students, has an annual budget that exceeds $1.7 billion, and produces a $6 billion-plus economic impact on the Greater Houston area each year.
The UH System includes the University of Houston, UH Northwest and UH Sugar Land; UH-Clear Lake and UHCL Pearland; UH-Downtown and UHD Northwest; and UH-Victoria and UHV Katy, as well as Houston Public Media, home to KUHT-TV8, Houston's PBS station and the nation's first educational television station; KUHF-88.7, Houston's National Public Radio station; and KUHF 88.7 HD-2, Houston's digital classical music stream.
As president of the University of Houston, she is the chief executive officer of the largest and oldest of the four UH System universities. As the system's flagship institution, UH enrolls approximately 44,000 students, offers 280 undergraduate and graduate programs and awards more than 9,200 degrees each year.
During her tenure, UH has experienced record-breaking research funding, enrollment and private support. As part of an ongoing $1-billion campus construction program, UH launched its 74-acre Energy Research Park, which is now home to several start-up companies, research enterprises and academic programs. UH also opened its 40,000-seat TDECU Stadium, home of the Cougar football team, and increased student residence hall capacity to 8,000, the second highest in Texas. In addition, UH has completed an $80 million expansion and renovation of its Student Center.
In 2015, UH was awarded a Phi Beta Kappa chapter, one of fewer than 300 schools to earn that designation from the prestigious national honor society. In 2011, UH earned Tier One status, with the Carnegie Foundation elevating it to the top category of research universities. Princeton Review has recognized UH for excellence in undergraduate education and named it a "Best Value" university, and the Chronicle for Higher Education has cited UH as an exceptional workplace. UH consistently places among the foremost universities included in the Top American Research Universities (TARU) rankings.
Khator was born in Uttar Pradesh, India, earning a bachelor's degree at the University of Kanpur. She received her master's degree in political science and Ph.D. in political science and public administration from Purdue University. A noted scholar in the field of global environmental policy, she has published numerous books and articles on the subject. Prior to her appointment, she was provost and senior vice president at the University of South Florida, capping a 22-year career at that institution.
She is a member of the U.S. Department of Homeland Security's Academic Advisory Council, the Association of Governing Boards of Colleges and Universities (AGB) Council of Presidents, the Council on Foreign Relations, the Greater Houston Partnership and the Houston Technology Center.  She serves as the American Athletic Conference representative to the NCAA Division I Presidential Forum and is the Immediate Past Chair of the American Council on Education (ACE) and the Federal Reserve Bank of Dallas.
She has been inducted into the Texas Women's Hall of Fame, and has received the Excellence in Leadership Award from the U.S. Hispanic Chamber of Commerce, the President of the Year Award from ACIU, the Association of College Unions International, and the President's Award from NASPA, the national association of student affairs administrators. She is featured in the American Council on Education's video "The Joys of the Presidency."

Khator received the Pravasi Bharatiya Samman Award from the president of India, the highest recognition conferred on overseas Indians based on their "significant contributions" to their homeland. In addition, the U.S. Citizenship and Immigration Services included her among its Outstanding Americans by Choice awardees, recognizing her achievements as a naturalized citizen.
Purdue University awarded her with the Doctor of Social Sciences degree, honoris causa, and Swansea University with the Doctor of Letters, honoris causa.
Khator's husband, Dr. Suresh Khator, is associate dean of the UH Cullen College of Engineering. They have two daughters, both of whom are ophthalmologists, and two grandchildren.