Paula Mendoza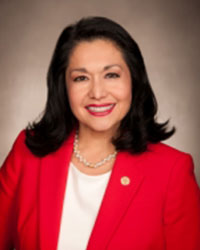 Paula Mendoza was appointed to the University of Houston System Board of Regents in 2013 by Governor Rick Perry and served through November 8, 2019. 
Mendoza, a native Houstonian, is CEO of Possible Missions, Inc., a company she established in 2001, specializing in Project Management Solutions Company.  The business has achieved significant accolades over the years, such as; 2014 Subcontractor of the Year, 2013 Minority Business Enterprise Accountability Award, 2012 Supplier of the Year, 2006 Emerging Ten (E-10) Award, and most recently Mendoza has been featured on 2015's Small Business Today Magazine Cover, one of Houston's 50 Women of Influence and was recognized as one of 2016's Women of Distinction.
Mendoza is past chairman of the State of Texas Ethics Commission, past board member of the Texas Board of Public Accountants, and past chairman of the Texas Association of Mexican American Chambers of Commerce and currently serves on the Boards of the Houston Minority Development Council and the Houston East End Chamber of Commerce Foundation.
Mendoza earned a Bachelor of Science degree in Criminal Justice from the University of Houston Downtown and later  earned her MBA with a concentration in Leadership from Marilyn Davies College of Business at the University of Houston-Downtown.  A tireless advocate student success, Mendoza remains involved in student advocacy at all System campuses, especially her alma mater, the University of Houston Downtown.