Spencer Armour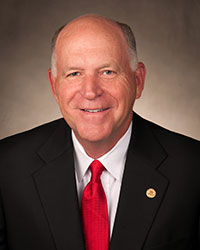 Spencer D. Armour, III was appointed to the University of Houston System Board of Regents by Governor Rick Perry in 2011 and served through August 31, 2017.  For fiscal year 2016-2017, Regent Armour served as chair of the Finance and Administration Committee, vice chair of the Facilities, Construction and Master Planning Committee, a member of the Endowment Management Committee, and as a member of the Executive and Compensation Committee.

A native of Silsbee, Texas, Armour earned his Bachelor of Science degree in Economics from the University of Houston in 1977.
Armour currently serves as chairman of ProPetro Services and is a partner at PT Petroleum LLC.  He is also managing partner of Armada Gas & Oil Company in Midland, Texas, a company that invests in oil and gas production, minerals, and the oilfield service sector. Armour founded Lone Star Mud, Inc. in 1986 and Sledge Drilling Corp. in 2006.  Both were subsequently acquired by public companies.

Armour is past president of the Petroleum Club of Midland and has served on the boards of Patterson-UTI Energy, Inc., NuTech Energy Alliance, and Beacon Resources, LLC.  He is also a member of the Midland and Fort Worth Wildcat Committees.