Gregory C. King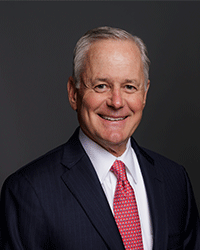 Gregory C. King is a Managing Partner of EnCap Flatrock Midstream (EFM) headquartered in San Antonio, Texas. Prior to joining EFM in 2015, Mr. King spent nearly 15 years at Valero Energy Corporation (NYSE: VLO) in San Antonio. He served as President of Valero from 2003 to 2007. As Valero's President, he helped develop and execute a strategy to build the largest independent refiner in North America. During the same period, he also served as a member of the board of directors of Valero, L.P. (now NuStar Energy, L.P) (NYSE: NS). Mr. King held various roles at Valero before being named President, including General Counsel and Chief Operating Officer.
Mr. King has been actively involved with a number of charitable organizations over the years. He served for 10 years as the Chairman of the Board of Focus on the Family, a national, faith-based organization headquartered in Colorado Springs. Mr. King is also an Emeritus Director of the University of Houston Law Foundation.
Mr. King earned his J.D. at the University of Houston Law Center in 1985 and practiced law at Bracewell LLP's Houston office from 1985 to 1993, becoming a partner in 1993. He received a B. B.A. in Finance from the University of Texas in 1982.
In addition to helping run the day-to-day operations of EFM, Mr. King currently serves on the board of directors of several EFM portfolio companies, including Edgewater Midstream, Lotus Midstream, Manchester Midstream and Mada Midstream.