Gov. Abbott Appoints New Member to UH System Board of Regents, Reappoints Two Others
Gov. Greg Abbott has appointed business leader Tammy Murphy to the University of Houston System Board of Regents, and reappointed Jack Moore and Greg King to the governing body that oversees the four universities that make up the UH System (University of Houston, University of Houston-Clear Lake, University of Houston-Downtown, University of Houston-Victoria). Each will serve a six-year term through August 31, 2029.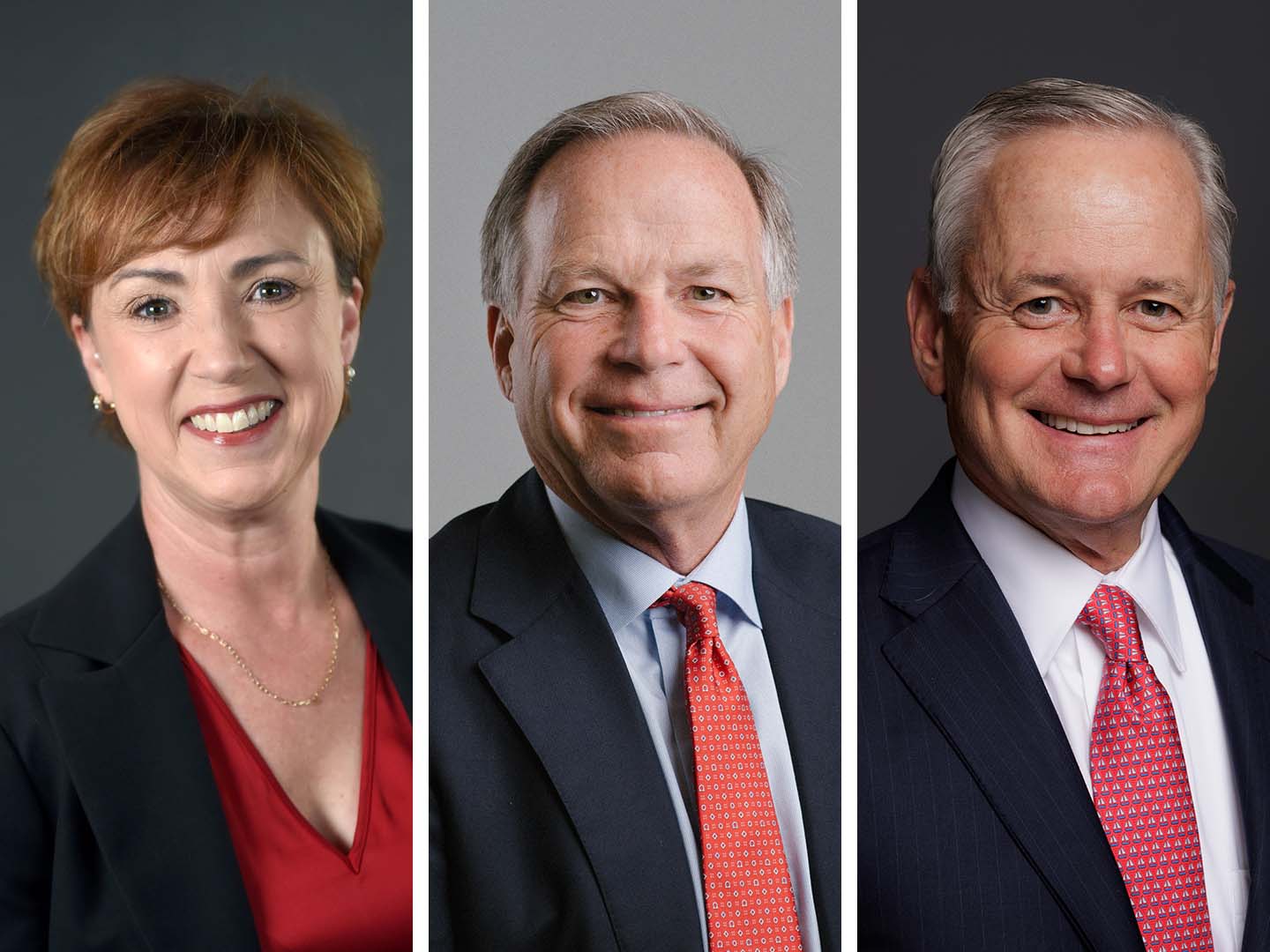 "I am delighted to welcome Tammy Murphy to our Board of Regents and to express my deep appreciation to Regents Moore and King for their ongoing commitment. Together, they will play a pivotal in shaping the future of our system universities, ensuring a brighter future for our students and communities," said Tilman Fertitta, chairman of the UHS Board of Regents.
Regent Tammy Denton Murphy Appointed
Tammy Denton Murphy, a proud alumna of the University of Houston-Victoria (BBA '95), brings a wealth of business acumen and community involvement to the UH System Board of Regents. Murphy is co-owner of three Chick-fil-A restaurants with her husband David, who is also a UHV alumnus. A Victoria native, Murphy is a passionate advocate for education having co-created scholarships at both UHV and Victoria College, and supporting the educational goals of 200 Chick-fil-A team members through mentorship, tutoring and scholarship opportunities.
"Tammy Murphy's commitment to education and her impressive track record in business make her a valuable addition to our board, and we couldn't be more thrilled to welcome her to the team. Her contributions to our community are commendable, and we look forward to her invaluable insights and leadership," said Renu Khator, chancellor of the UH System and president of the University of Houston."  
Murphy has been a member of the UHV College of Business Dean's Advisory Board and has contributed to the Innovation Collective Success Team. Furthermore, she holds a position on the Victoria Main Street Program Board and is the vice president of Future Sight. Beyond these roles, she dedicates her skills, time and resources to a myriad of other local charitable organizations and nonprofits.
Tammy and David Murphy received the UHV Distinguished Alumni Award in 2010, the UHV Community Partnership Award in 2021 and most recently were selected as two of the 50 Faces honoring UHV's 50-year anniversary.
Regent Jack Moore Reappointed
A member of the UHS Board of Regents since 2018, Jack Moore most recently served as the vice chairman of the Board and chair of the Audit and Compliance Committee, member of the Finance and Administration Committee, and of the Endowment Management Committee.
The former president and CEO of Cameron International Corporation, Moore also held various management positions at Baker Hughes Incorporated, where he was employed for over 20 years. He currently serves on the Board of Directors of Occidental Petroleum Company, KBR and Propetro Holdings. Moore also serves in leadership positions with the American Heart Association as well as the Memorial Assistance Ministries. He earned his Bachelor of Business Administration in 1977 from the University of Houston and the Advanced Management Program at Harvard Business School.
Regent Gregory King Reappointed
San Antonio business executive and attorney Gregory King spent almost 15 years at Valero Energy, serving in numerous positions including president, chief operating officer and general counsel. In 2015, he joined EnCap Flatrock Midstream as a managing partner. He has served on the UHS Board since April 2023, appointed by the Governor following the passing of Regent Stephen "Steve" Chazen.
King is an alumnus of the University of Houston, where he received his Juris Doctor degree. He also holds a Bachelor of Business Administration from The University of Texas at Austin and is a member of the State Bar of Texas. Additionally, King has held several leadership positions in various organizations, including serving as the former board chairman of Focus on the Family and as an emeritus director of the University of Houston Law Foundation. He has also served as a board member of the United Way of San Antonio and Bexar County, as well as the Alamo Area Council Boy Scouts of America.
Regent Doug Brooks' Distinguished Service
Doug Brooks departs the board after completing six distinguished years of service. Most recently, he served as chair of the Facilities, Construction and Master Planning Committee, vice chair of the Finance and Administration Committee and as a member of the Endowment Management Committee. Brooks earned his B.S. in Hotel and Restaurant Management from the University of Houston in 1975 and went on to lead Brinker International, one of the world's leading casual dining restaurant companies, in a variety of roles, including president and CEO.
"We extend our heartfelt gratitude to Doug Brooks for his exceptional six years of service on the board. His leadership and dedication have truly helped us move the needle across all four universities, and he should be proud of all we've accomplished together," added Fertitta.
The UHS Board of Regents is composed of nine regular members and a student regent. Every two years, the governor of the State of Texas, subject to Senate confirmation, appoints three members to the Board of Regents. Each regular member serves a six-year term. Non-voting student regents serve one-year terms.